VIDEO CHAT RULES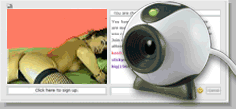 Without some basic rules to protect people's rights all we are left with is anarchy. If all members abide by the rules the video chat can be a lot of fun for everyone. But if you decide not to follow these basic rules you might be kicked out, banned or get your profile deleted - please, be kind and have fun ...
Video chat works best with these browsers; Chrome, Opera, FireFox
NO HARASSING OR INSULTING OTHER MEMBERS

Direct personal insults and other name-calling in any way or form is strictly prohibited. No intimidating or harassing is allowed. This includes personal attacks on moderators for doing their jobs. (Instant ban!)

NO RUDENESS, RACISM OR PREJUDICE

Rudeness, racism and prejudice of any kind will not be tolerated. Such behavior only makes you look small minded. Please treat other members with respect, the way you want to be treated. (Instant ban!)

NO CONTACT INFO & OTHER SITES/SERVICES

Mentioning of other websites or services is forbidden. Posting ANY contact information is strictly forbidden. Mentioning MSN/Yahoo/ICQ/etc or any other instant messenger will get you banned! (Instant ban!)

ABSOLUTELY NO MINORS & ANIMALS

You must be at least 18+ years old to enter the chat rooms. Anyone violating this rule will be banned from the site immediately. It's strictly prohibited to display minors and animals on cam! (Instant ban!)

SAVE THE BANDWIDTH

It's forbidden to publish your cam without showing anything (of you) on it. Just disable/pause the webcam until you're ready to show off. Broadcasting pre-recorded videos or feeds is forbidden!

NO CAPS, FLOODING OR UNNECESSARY REPETITION

Interrupting the flow of the chat sessions with the use of CAPITAL LETTERS, repetitive typing or other forms of flooding is strictly prohibited. Typing in all uppercase letters is considered yelling in chat, so don't do it.

NO ILLEGAL ACTIVITY, AS PER REAL LIFE

Any activities on this site that are illegal in your own country, state or community are not allowed. Please be mindful of this as such activities within this site can be provided as transcripts to authorities as required.

ENGLISH ONLY IN THE LOBBY

KinkyPeepz is an English speaking site, but all languages are welcome. However, while chatting in public you must type in ENGLISH. If you wish to type in other than English, please take it private (whisper messages).
NO DIRECTING AND PESTERING:
This is NOT a paid webcam site where you can ask/direct the person on cam to do whatever YOU want. In our chat room the members have the freedom to show whatever they want on cam without being pushed. Asking a member to perform, requesting sexual performance(s); including but not limited to "Show me your pussy", "Put a finger in your ass", "Take off your clothes", etc. is DIRECTING. It's strictly forbidden to direct other members.
Any repetitive request for attention of any kind; including but not limited to "Please view my cam", "See my cock", "Let go to private chat", etc. is PESTERING. It's strictly forbidden to pester the other members.